Today I'm proud to announce the availability of all source code, and the advanced online publication of our paper
Bath DE*, Stowers JR*, Hörmann D, Poehlmann A, Dickson BJ, Straw AD (* equal contribution) (2014) FlyMAD: Rapid thermogenetic control of neuronal activity in freely-walking Drosophila. Nature Methods. doi 10.1038/nmeth.2973
FlyMAD (Fly Mind Altering Device) is a system for targeting freely walking flies (Drosophila) with lasers. This allows rapid thermo- and opto- genetic manipulation of the fly nervous system in order to study neuronal function.

The scientific aspects of the publication are better summarised on nature.com, here, on our laboratory website, or in the video at the bottom of this post.
Briefly however; if one wishes to link function to specific neurons one could conceive of two broad approaches. First, observe the firing of the neurons in real time using fluorescence or other microscopy techniques. Second, use genetic techniques to engineer organisms with light or temperature sensitive proteins bound to specific neuronal classes such that by the application of heat or light, activity in those neurons can be modulated.
Our system takes the second approach; our innovation being that by using real time computer vision and control techniques we are able to track freely walking Drosophila and apply precise (sub 0.2mm) opto- or thermogenetic stimulation to study the role of specific neurons in a diverse array of behaviours.
This blog post will cover a few of the technical and architectural decisions I made in the creation of the system. Perhaps it is easiest to start with a screenshot and schematic of the system in operation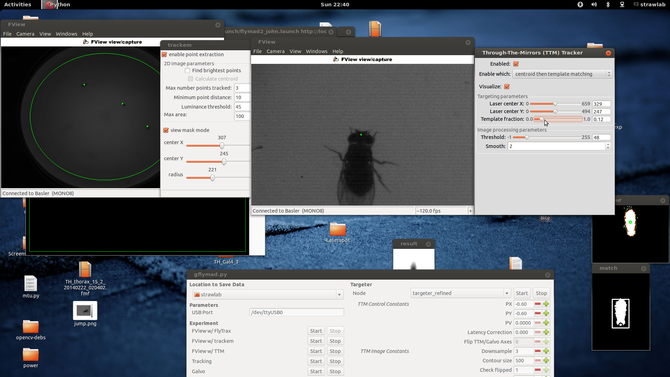 Here one can see two windows showing images from the two tracking cameras, associated image processing configuration parameters (and their results, at 120fps). In the center at the bottom is visible the ROS based experimental control UI. Schematically, the two cameras and lasers are arranged like the following
In this image you can also see the thorlabs 2D galvanometers (top left), and the dichroic mirror which allows aligning the camera and laser on the same optical axis.
By pointing the laser at flies freely walking in the arena below, one can subsequently deliver heat or light to specific body regions.